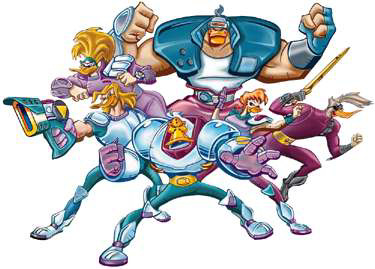 My Favorite Episodes
---
Yeah, yeah. I know I said I'd never do this, but I couldn't decide what else to put in a table, and I really needed to get this thing done! Now that it's up, I kinda like it, so it's probably here to stay.
---
Episode
Reason
Quote
The First Face-Off
The episode that started it all.
"I suddenly realized I had a gold mine on my hands! Hockey playing alien ducks! The fast food tie-ins alone would be worth a fortune!"
Jurassic Puck
Lots of Nosedive. Funny. Dinosaurs!
"Hey, guys? Quick favor: Pick up my mail, water my plants… Oh, and one last thing - HELP!!!!"
The Human Element
Even moreNosedive! Lots of funny moments.
"Now, this is a weird way to go; eaten by a surf and turf dinner!"
Phil in the Blank
Dive saves the day!
"Stand Back and watch the kid at work!"
Puck Hard
Lots of action. Good scenes with Wildwing and Klegghorn
"If this is your secret headquarters, I gotta tell you, I'm underwhelmed."
Monster Rally
Cool action. Smarm! - Well, sorta anyway.
"Dive, let go! Save yourself!"
"Never!"
---
Return to The Mighty Ducks Page
Return to Chaos Central
This page hosted by GeoCities.
---
The Mighty Ducks and all related characters, images, logos, etc., are the property of Walt Disney Incorporated.No copyright infringement is intended.